 Make your products smart
Increase the value of your business
The motor, display, battery and BMS communicate with each other – via the CAN bus communication – based proprietary protocol – whilst the e-bike is in use.
The integrated BMS collects and sends data in the XMART CLOUD: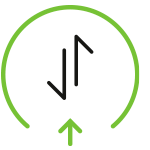 Static:


Nominal battery capacity, parallel series cell arrangement, battery type, engine type, etc.
Dynamic:


Power supplied by the engine, power supplied by the cyclist, engine temperature, battery temperature, etc.
Aggregates:


Residual capacity, number of charge cycles, total working time, total distance travelled in meters, etc.
How Xmart System works
Data collection and processing
The data provided by the various e-bike components (e.g. motor, display…) is collected by the

XMART battery's BMS

.
The battery sends the data to the

XMART CLOUD

.
Logical service applications, in addition to machine learning and data mining algorithms, process the data.
The user receives useful information regarding their business or e-bike use.
Why should you choose XMART CLOUD SYSTEM?
Benefits for all: from the manufacturer to the end-user
Scheduling predictive e-bike maintenance (motor, gearbox, etc.).
Carrying out own product tests and validations: to identify the best component combination (e.g. motor model + battery model).
Offering value-added services for rentals: bike GPS localisation, anti-theft device enabling, alarm monitoring, programmed operation blocking.
Providing support for optimal e-bike use.
| | | | | | | | |
| --- | --- | --- | --- | --- | --- | --- | --- |
| | Motor manufacturer | E-bike manufacturer | Components manufacturer | Rental Companies | Dealers | End users | Technical support |
| Testing and validation | | | – | – | – | – | – |
| Better performing products | | | – | – | – | – | – |
| E-bike use support | – | – | – | | | – | – |
| User clustering | – | | – | | | – | – |
| Predictive maintenance | – | | | – | – | | |
| Guarantee certificate | – | | | | – | | |
| Customer service optimisation | – | | | | – | | |
| E-bike GPS localisation | – | – | – | | – | | – |
| Operation block | – | – | – | | – | – | – |
| Alarms/anti-theft | – | – | – | | – | | – |
Request a free consultation
We will find the best solution for you